Summer Library Program:
Tails and Tales!
Wednesdays from June 9 – July 21
Time: 9:30 – 11:00am
Place: Gilman Park Pavilion
All events at the park weather permitting due to Covid restrictions. Small groups are allowed in the library to checkout books.
Events Calendar
June 9 : Native Legends About Birds
crafts & activities
June 16: Raptor Education – Live Birds!
Meet some of Wisconsin's common, but rarely encountered birds. Discover what a raptor is, hear their stories and learn what you can do to ensure they remain a significant part of the ecosystem.
June 23: Hay Creek Kennel
Presentation & craft/activities
June 30: Dragon Tales & Fire Breathing Dragon Craft
craft & activities
July 7: African Tales w/ David Donyes
craft and activities
July 14: Whose Tail Is It? Mike and Sally Reiter
Sharing skulls, pelts, and antlers from a variety of animals from all over the world, but mostly from Wisconsin.
July 21: Petting Zoo
activities & program wrap up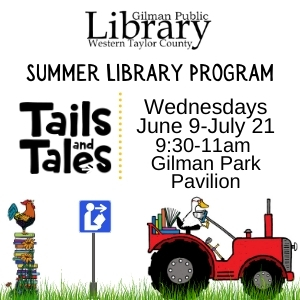 Make Tracks!
to the Western Taylor County Public Library
November 2021, Date TBD
Silent Auction Baskets

Guessing Jar: win the jar of candy with your guess!

Scavengerhunt: grab your scavengerhunt sheet at the library for your chance to win prizes!

Daily Prizes: checkout materials for your chance to win a daily drawing!

Grand Prizes: 2 winners will receive $20 Amazon credit for your choice of a book!